On October 2, NA President Mr. Hovik Abrahamyan awarded Mr. Gianni Buquicchio, Secretary General of the European Commission for Democracy through Law (the Venice Commission) a Medal of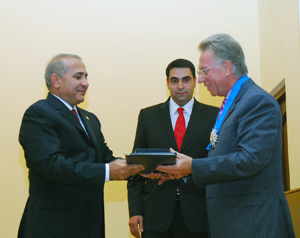 Honour. On September 29 of this year RA President Mr. Serzh Sargsyan signed a decree on that awarding for the contribution to Armenia's European integration and his services in implementation of legal reforms in the Republic of Armenia.
Expressing gratitude for that award, Mr. Buquicchio informed those present that soon he would resign office of Secretary General of the Venice Commission of the Council of Europe. He remembered the procedure of Armenia's membership to that European structure and jointly passed path. According to him, "Today Armenia is a democratic state. Certainly, there are some difficulties; it cannot be without difficulties. The greatest award for me is the progress, which we jointly recorded during the establishment of democracy in Armenia".
Congratulating Mr. Buquicchio, RA NA President Mr. Hovik Abrahamyan said, "Positions are temporary for all of us. The more important is the work the official has done during his tenure. Moreover, you, Mr. Buquicchio, did a great job for the establishment of democracy in many countries of Europe."