On March 3 Artur Baghdasaryan, RA National Assembly President, received Mher Avanesyan, Greta Khndzrtsyan, Garush Danielyan, the Armenian athletes, participants of Paralympic Games and Hakob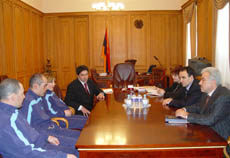 Abrahamyan, president of the Armenian National Paralympic Committee. Gagik Mkheyan, Chairman of RA NA Standing Committee on Social Affairs, Health Care and Environment, attended the meeting.
Presenting to the President of the National Assembly the members of the Armenian National team participating at the Winter Parlalympic Games of the disabled athletes in Torino, Hakob Abrahamyan also presented the problems of the disabled athletes. An agreement was reached for the solution of the problems to organize parliamentary hearings dedicated to the sport of the disabled after returning from Torino, to discuss comprehensively all the problems: beginning from the branch belonging up to providing financial means and complying the sport halls with the demands of the disabled in the marzes (regions).
Artur Baghdasaryan, NA President, wished the three Armenian athletes success at Paralympic Winter Games, where participation of 110 countries is expected, and expressed his support for the solution of all problems.