On the 45th anniversary of Vazgen Sargsyan, the Armenian National Hero Artur Baghdasaryan, the RA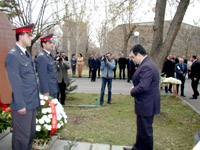 NA Speaker and the deputies of the Parliament paid their tribute putting wreath and flowers to the monument of the Parliament Park.


Artur Baghdasaryan the RA NA Speaker turning to those present, said:

Today Vazgen Sargsyan, the Armenian National Hero, Defence Minister, Prime Minister would have been 45. Each year we pay our respect to the memory of the martyred colleagues at this memorial. During his life Vazgen Sargsyan fought selflessly for the sake of Armenia and Nagorno Karabakh. Today, we once again condemn the severe crime and terrorism, which took the life of the young talented statesman, great commander, writer, publicist, took us away from our friends. Today I again offer my condolences their close relatives and we gave assurances that we could create strong state and statehood, which was their great wish.